Scroll ALL the way down for 30 HOT photos from this fight!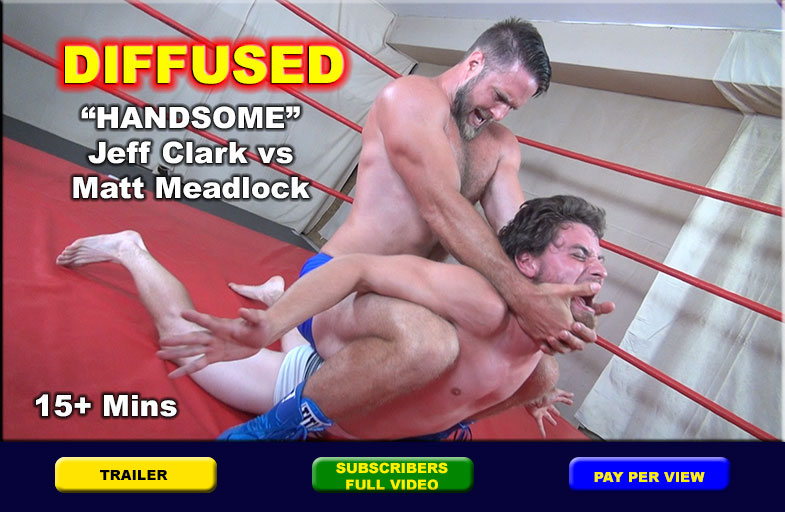 Meadlock proudly displays the chloroform rag he plans on using to get the edge on Handsome Jeff Clark...hey, it is No Rules Wrestling after all!
Jeff isn't falling for it and finds the rag and throws it away.
Jeff is looking strong and ready for battle.
They lock up and prepare for battle.
Jeff sizes Meadlock up, his look is intense, he's ready to ruin the punk.
Meadlock goes down hard early at the hands of the Handsome one.
Jeff ties Meadlock up in a front face lock enroute to a suplex.
Meadlock's face shows the pain he is feeling.
Jeff looks down at the damage he's causing. Meadlock hasn't mounted any offense.
Meadlock screams as JC cranks on his leg.
A boot to the midsection has Meadlock reeling.
Meadlock has the wind knocked out of him and is barely able to stand.
Jeff leans back and waits for Meadlock to try to get to his feet.
JC sends Meadlock flying.
One of JC's power moves, a devastating elbow drop.
JC uses the top rope to choke the life out of Meadlock.
Continuing the throat assault, JC has Meadlock in a front face lock with his throat on the top rope.
"I don't disappoint" JC gloats as Meadlock is a heap of helplessness on the mat.
JC camels and fish hooks Meadlock nearly tearing open his mouth.
Meadlock's face says it all in a back breaking camel.
JC lifts his arms feeling victorious while Matt has no idea where he is.
An inverted choke has Meadlock screaming.
The Handsome One racks Meadlock with ease nearly snapping him over his massive shoulders.
A tight sleeper has Meadlock's blood supply cut off to the brain.
Meadlock goes limp in Jeff's powerful sleeper.
JC ponders how to next teach Meadlock a lesson.
We get to see Jeff's finisher, a double fisted spine hammer.
Jeff flexes over a defeated Meadlock. A TOTAL squash match!
Jeff flexes for the fans as he carries Meadlock out of the ring.