Scroll ALL the way down for 30 HOT photos from this fight!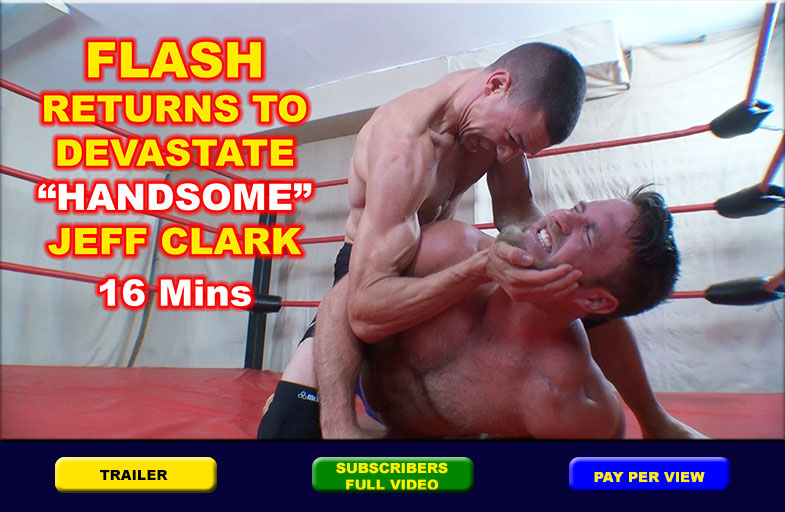 Flash returns after a 4 year absence and has a message for Handsome Jeff Clark.
"Mr. Clark should not be coming back so soon after his concussion, I plan on attacking his injury sustained in his fight against The Animal and putting this pretty boy OUT of NRW for good!"
Jeff thinks this is a friendly training bout to help him get back into competition.
Flash has other things in mind and immediately assaults Clark. He will focus on the head and neck area because that's where Jeff was injured in his fight against The Animal.
Flash holds Jeff's head in place as he lines up a skull punch.
Handsome Jeff is in agony from Flash's attack.
Flash knows Jeff's neck is injured and he twists away hoping to cripple him.
Flash deep claws the shoulder area of Jeff...and you can see he is in agony.
Flash could end the fight now, but he's only just getting started.
Jeff is hurt bad and Flash front face locks him, all the pressure on the neck area.
Jeff screams as Flash claws his face.
Flash grinds away with a side headlock, Jeff is in serious danger.
Jeff struggles to remain conscious as Flash sleepers him with his legs tied up.
Flash goes back to the neck, bending Jeff over in a full nelson.
Jeff grimaces as Flash twists his arm behind his back and smiles.
The onslaught is taking it's toll, Jeff tries to protect the back of his head and neck.
Flash chops away at Jeff's neck viciously, Jeff's head nearly flies off.
Flash is delighted by the suffering he's causing the NRW Fan Favorite Jeff Clark.
Jeff is pleading, the pain is intense, but it's going to get worse as Flash lines up a double chop.
A panicked look on Jeff's face as Flash has his arms restrained and lines up a shot to the head.
Jeff cannot defend himself. His neck and head severely damaged but Flash isn't finished.
Flash twists away at Clark's head and neck, this is hard to watch as Jeff screams.
A camel clutch threatens to snap the neck and spine of Jeff.
Flash goes back to claw the shoulders, the nerve damage is intense.
Flash will not let up on Jeff's neck. An inverted choke has the big man begging.
Jeff is hurt, exhausted, and unable to mount an offense.
An over the knee backbreaker threatens to end Jeff once and for all.
Every move is killing Jeff. Here Flash applies a figure 4 to the head.
Finally it's over and Handsome Jeff is left on display, unconscious, for the fans.
Flash gloats about the the beatdown he just gave Jeff Clark.
Call the ambulance, Jeff isn't getting up.